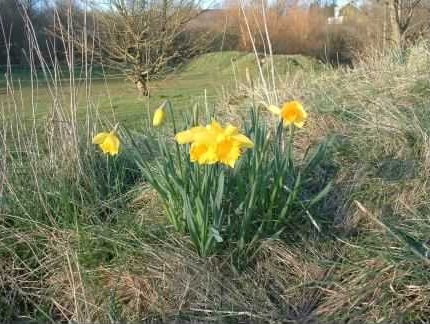 Photos ©2003
Wild Daffodil - Narcissus pseudonarcissus
Family - Amaryllidaceae
Also known as - The Lent Lily.
This plant is poisonous
Perennial of open woods and meadows, the Daffodil is locally common in parts of England and Wales often flourishing after woodland coppicing. The long grey-green leaves are narrow and basal with a spread of up to 20cm (8in). Familiar yellow flowers of central tubular trumpet surrounded with a disk of six to seven petals sometimes of a paler yellow colour. The flowers which are 50-60mm (2-2.3in) across appear March to April and can reach a height of 15-30cm (6-12in).
Fully hardy preferring sun or light shade and a well drained soil, they spread by seed dispersal and/or by bulb offsets. The usually solitary flowers can vary from diminutive to large trumpets. Many cultivated variants with differing flower shapes and colour combinations.
---
Site design ©1999- Brickfields Country Park - Privacy -