Events attended in 2004 by The Friends of Brickfields Country Park
Brickfields Country Park volunteers attended the following events during 2004 with the display stand and several fund raising games, to bring the Park and the work of the volunteers to the publics attention. For further details E-mail
---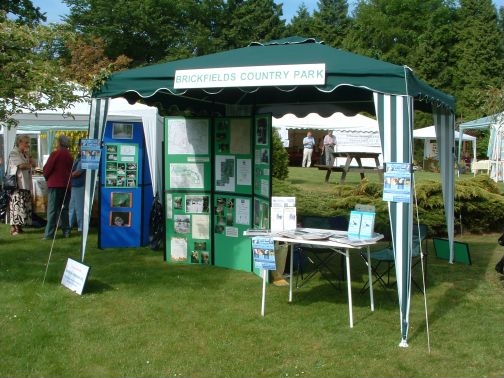 Saturday 15th May, Bells Piece - Gardeners Open Day, Bells Piece, Farnham. We again attended this very popular event held every year at Bells Piece Horticulture, Hale Road, Farnham. With local conservation, interest and wildlife organisations, cafeteria, games, "Gardeners Question Time". Plants at bargain prices from this popular horticulture charity. Brickfields Country Park were there with the display stand, leaflets & photos to show the work of our volunteers and tell them about the park. We had a good time at Bells Piece helping them to raise funds, over £7000, and us to promote Brickfields Country Park, meeting friends old and new.
For further information on next years event phone Mr. B. Lake on 01252 714271.
---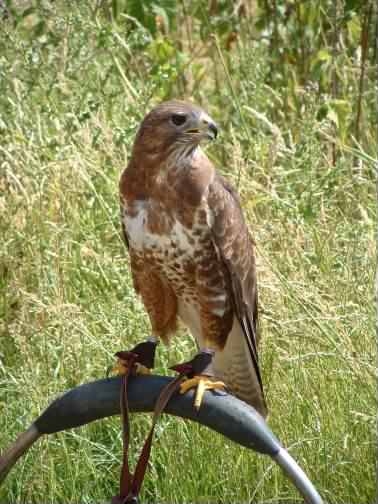 Sunday 27th June, Brickfields Country Park - "Fur & Feathers" Wildlife Fun Day. 11am to 4pm. Held again in the park, we had our best year yet, good weather and a very welcome return appearance of Millers Ark Animals Mobile Farm. Our own brand Bullace jam was very popular selling out of our total stock in less than an hour. The usual tombola, cake stall, hot and cold refreshments, quizzes, displays and stalls from local environment groups also did well. The weather was excellent, but possibly a little too hot for the Birds of Prey who retired early for the day to prevent them getting stressed.
We were sponsored again this year by The Hire Center, in St. Josephs Road Aldershot, who kindly help out with a large diesel generator to provide the electricity for the Fun Day. Without the help of local companies we would at times be unable to do some of our work in the park and also stage events like the Fun Day. Our grateful thanks go to them. Attractions also included -
Ray of Hope Animal Sanctuary

- with a display of rescued pets, information & games.

Birds of Prey display

- see members of the Raptor species.

Blackwater Valley Management

- with a dragonfly display and a dipping display from Brickfields pond.

The R.S.P.C.A.

- with their produce & information stall.

West Surrey Badger Group

- with their produce & information stall.
For further information on next years event email

2004 Sponsors

-
ALL THE TOOLS FOR THE JOB!TOOL HIRE FOR THE TRADE & PUBLIC
We stock a huge range of tools and equipment for virtually every job imaginable
26 St Josephs Road Aldershot Hants GU12 4LQ Tel - 01252 311444 Fax - 01252 342619
---
Saturday 3rd / Sunday 4th July, Aldershot Army Show, Queens Parade, Aldershot. Owing to organisational problems for this event (run this year by - Event Essentials) - several local volunteer organisations and charity groups, Brickfields included, were not able to attend this years show. It would appear that paperwork allowing site access, apparently sent out did not arrive "correctly". Stand space allocated remained unused.
---
Sunday 18 July RSPCA Seventh Annual Gala Day & Fun Dog Show. Held again this year at The Mytchett Center, with the usual dog show, dog agility show, craft stalls, charity stalls, bar, hot & cold food, refreshments, bouncy castle, Etc. This years event was not as well attended as in previous years, possibly due to the change in date from August forward to July. Still we had a good day meeting old friends and regular visitors.
For further information on next years event phone Sally Maple on 01252 658150.
---
Sunday 19th September, "Autumn Spring Clean", Brickfields Country Park 1:30m - 3:30pm. Part of the Blackwater Valley "Go Wild in September - The Countryside in Autumn" series of events for 2004. An opportunity to come down Brickfields Country Park and see what we do, lend a hand or just have a chat about our activities and the park.
For further information on next years event E-mail .
---
Sunday 3rd October, The Rushmoor Green Family Fun Day,Princes Hall, Aldershot. A free family event with a "Global Environment and Cultural Diversity" theme. Attractions included Solar Car Racing & construction challenge, Astrodome Planetarium, Children's activity zone by Planet Splodge, One World restaurant, Fair Trade cafe & acoustic musicians, Green Renewable Energy Machine, local schools theater, competitions, local voluntary group stands and more. Brickfields Country Park were be there with the display stand, leaflets & photos to show the work of our volunteers and tell the public about the park. Unfortunately the weather was not to good and the Solar Car challenge was rained off, public attendance was also a bit sporadic. his event was re-organised from the previous regular July dates, possibly a bit late in the year?
For further information on next years event phone Les Murrell on 01252 398538.
---
Site design ©1999- Brickfields Country Park - Privacy -