Brickfields Country Park - Dates for 2019
"Come along and see us"
Regular work dates | Event dates
FBCP welcome involvement from the public as occasional volunteers or members. Work parties are usually held in the park on the 1st and 3rd Sundays of the month (except January) from 1:30pm onwards (12:30 in the winter, see below), but do check with the task date calendar below first as some work dates do change. We meet in the centre of the park at our storage container. No special skills are needed, just some strong footwear! and a willingness to contribute to your environment. The work covers many topics from pond clearance to path building and more, we are insured for public liability, tools and refreshments are provided and safety is covered before starting. For details E-mail
Task & Event dates scheduled for 2019 are -
(Dates subject to change as event notifications or cancellations are received)
Work Dates - 2019
With the Daylight Savings Time change, winter task periods start at

12:30pm

, reverting to the normal start time of

1:30pm

for the summer.
Tuesday 22nd January - Members general meeting 8:00pm, for details E-mail
25th January

Special Corporate day for BT, who are helping with various projects in Brickfields Park, for details E-mail

January
13th, 20th
February
3rd, 17th
March
10th, 17th
April 2nd - Annual General Meeting 8:00pm, for details E-mail
April
7th, 28th
May
5th, 19th
June
2nd, 16th
Sunday 23rd June

Cove Brook Funday

- see main listing below
Sunday 7th July

Brickfields Park Funday

- see main listing below
23rd July (provisional) - Members General Meeting 8:00pm, for details E-mail
July
21st
August
4th, 18th
September
15th, 29th
8th October (provisional) - Members General Meeting 8:00pm, for details E-mail
October
6th, 20th
November
3rd, 17th
December
1st, 15th
Event Dates - 2019
Further events in 2019 to be advised.
Regular work dates | Event datestop
---
Sunday 23rd June, Environmental Fun Day, Cove Brook Greenway Group at Blunden Green, Blunden Road, Cove, Farnborough GU14 8QP. Heavy horses and waggon rides, pond dipping, petting zoo, BBQ, Ice Creams, teas, coffees and cakes as well as stalls introducing the work of local wildlife and environmental groups and much more. For local people of all ages to enjoy some time in the open air learning about wildlife, country traditions and how to look after the environment. For further details contact Mary Harris on 07796 277140.
---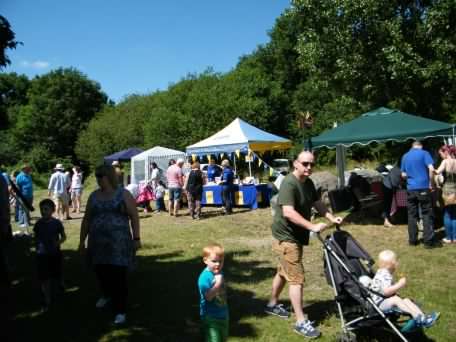 Sunday 7th July, Brickfields Country Park - Fun Day. - 11am to 4pm, (location map for GU11 3QJ) With farm animals, wildlife rescues, stalls and displays from local environmental and wildlife groups, hot and cold refreshments, games, quizzes, cuddly toy tombola, cake stall and our own brand "Brickfields Park" jams, a very popular item. Coffee and Tea from our refreshments are all "Fair Trade" products. The mobile farm display is still a very popular attraction drawing young and old to the interactive display of Ducks, Goats, Geese, Rabbits, Chickens, Pigs and many other farmyard animals.
This year will be the 34rd year since the opening of Brickfields Country Park by Colin Balchin the Mayor in 1985, and the 27th for The Friends group. New exhibitor stalls, games and competitions will be run again this year.
Exhibitor space is now open for booking at this years event, email for details, early booking is recommended. Wildlife groups and organisations are especially welcome to participate in our Funday for the local community in one of the UK's least known urban wildlife parks, one of Aldershot's gems.
Participants already booked for this years event are -
The Friends of Brickfields Country Park - with our information stand about wildlife in the park, hot and cold refreshments, cake stall and our own brand "Brickfields Park" jams, all made from fruit picked in Brickfields Park. The park is used on a regular basis by local schools for nature studies and is open every day of the year, so please help us to keep the park tidy

Wey Valley Cats Protection - Run by a small team of dedicated, unpaid volunteers who work hard in their spare time to care for and find homes for unwanted cats and kittens throughout the West Surrey and North-East Hampshire area rescuing and re-homing unwanted and abandoned cats, especially in Farnham, Alton, Bordon and Aldershot. It is our policy to never put a healthy cat to sleep and we believe that there is a new, loving home somewhere for each and every cat in our care.

Fleet Beekeepers Association - have members in Aldershot, Ash Vale, Farnborough, Fleet, Church Crookham, Crookham, Dogmersfield, Hartley Wintney, Hook, Odiham and surrounding North Hampshire areas. They will be displaying an enclosed frame of bees, empty hives and beekeeping equipment, along with a number of experienced beekeepers to chat about beekeeping and associated items. Beekeeping is a fascinating and challenging hobby that is very rewarding in many ways. Whilst it's great to be able to eventually harvest your own honey, you also get a great sense of satisfaction being connected directly to the natural world whilst knowing that your hobby is having a beneficial effect on the environment around you. One of the Brickfields volunteers is a beekeeper !

Blackwater Valley Countryside Partnership - with their information stand about wildlife in the local area, a live display of bugs and beasts and mini-beast hunts around the park. Lots of fun with the children carefully holding the beasties and then watching transfixed as they fly off. The Blackwater Valley is located on the borders of Hampshire, Surrey and Berkshire and runs for approximately 30km from the source near Aldershot, northwards to Swallowfield. Work in the Blackwater Valley is coordinated by the Blackwater Valley Countryside Partnership on behalf of the local authorities that border the Valley.

Millers Ark Animals - were established in 1991 by Elizabeth Miller, as an offshoot of her main farming business and has expanded steadily ever since, along with Animal Touch, the charity central to the farm. They bring the sights, sounds and experiences of the farmyard to the heart of your show, corporate event, school, nursery or residential home.

Based on the Earl of Malmesbury's estate at Hook in Hampshire, they specialise in breeding Irish Moiled rare breed cattle, traditional Belted Galloways, rare breed sheep and Pygmy goats. They are a very popular attraction to our annual Funday drawing young and old to their interactive display of Ducks, Goats, Geese, Rabbits, Chickens, Kune Kune pigs and other farmyard animals.

Happy Cats Rescue, Bordon - Founded in 2012 and based in Bordon, Hampshire, we are a small friendly rescue helping to rescue and re-home unwanted cats and kittens.

Brickfields games - a re-working this year of our games stall with more items, our old favourite Splat the Rat, test your skill, cuddly and soft toy tombola and more.

Cove Brook Greenway Group - another local group run by and for local residents to enhance the Cove Brook and its environs and increase local awareness. The Cove Brook Greenway stretches all the way from Farnborough Airfield to Hawley Lane, and they celebrated its 20th Anniversary last year. The group works with others to look after Cove Brook for the benefit of local people and wildlife. It undertakes regular Working Parties and produces an informative Newsletter four times per year.

Guildford Fuchsia Society - Anyone interested in gardening, and particularly our favourite plant, the fuchsia, is welcome to join us, either as a visitor for the evening, or by becoming a member. We are a small but friendly group who meet on the 4th Tuesday of each month

Blackwater Valley Friends of the Earth - displays of their efforts in the local environment and some children's games. website
Our 2018 sponsors were -
We must again thank our sponsors for their continued help, as without the help of our local businesses and organisations we would at times be unable to do some of our work in the park and to stage events like the Fun Day. Our grateful thanks go to them.
---
Site design ©1999- Brickfields Country Park - Privacy -