<<< Prev Waverley Abbey (2) Next >>>
by Tim Childerhouse
Based on extracts from Baigents 1882 book
"On The Abbey Of The Blessed Mary Of Waverley"


Waverly Abbey ©thecyberfarm.com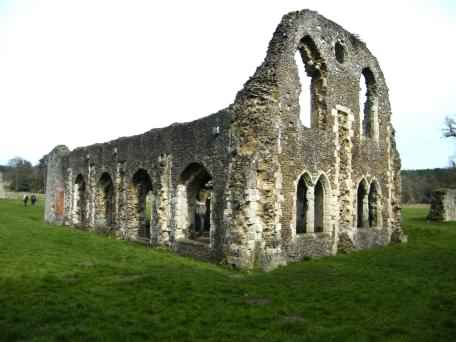 ©2016–
Just two and a half miles to the south of Aldershot are a few fragmentary remains of the buildings of Waverley Abbey[1] and its church, which barely enable us to realise that upon that spot there once stood a magnificent and grand place of worship of the Early English type, surpassing in its dimensions, several of our cathedrals. Although the Abbey lies across the county border, its monks farmed in Aldershot and brought prosperity to our, then, tiny village.
The Cistercians owed their first introduction into England to William Giffard[2][7] (the second Bishop of Winchester) who, after the Conquest was Chancellor to Henry I. It was Henry who, on the 24th November 1128, laid the foundations of the Abbey of Waverley for the reception of an Abbot and 12 monks. The members of this order soon became noted for their greatest excellence, the professions of agriculture, architecture and commerce. The 60 acres of this monastic order soon extended to 500 acres, encroaching as far as Wanborough, Tongham and Aldershot, where they established Granges or farms upon their outlying estates.

Church of St. Michael the Archangel
Aldershot. Picture courtesy
N. Chadwick licensed for reuse.
We have no record of when the monks first settled in Aldershot but the first documented evidence is contained in the 1287 schedule of the Crondall Rental – "ALRESSHATE (Aldershot). The Monks of Waverlye hold 31 acres of encroachment. These 31 acres lay to the south and were bounded by Church Lane, Church Lane East, Eggars Hill and terminating at the line of Boxalls Lane. The site of the Grange was a few hundred yards from the church of St. Michael the Archangel[3], and was manned by one monk and eight clerics, tending, perhaps, many hundreds of sheep.
In the same rental: "Adam Clericus[4] and Margaret of Overescumbe hold one virgate[5] of land containing 29 acres on payment, therefore, of 2/- on the Feast of St. Michael". This land extended from the western limit of the monks property to the Blackwater Stream, the county border, making at least 60 acres of sheep pasture. Of Margaret we have no knowledge but, at this time, Adam (Clericus) is listed as the first recorded Chaplain, perhaps he was on loan from Waverley, and he may have been in charge of the Grange, then managed by a monk and eight clerics.
After the dissolution in 1536 of the Abbey at Waverley, the White family of Aldershot, then living at The Lodge in Church Lane East, took over the 31 acres on payment of 4s 4d, an increase of one penny in 300 years, such was the rate of inflation in those years.
---
---
Site design ©1999– Brickfields Country Park - Privacy -